Optimise time & resources
Plan preventive maintenance tasks well in advance to optimise resources and save time with Granlund Manager software.
Accessibility & oversight of data
Access property information and maintenance data at all times. Granlund Manager gives full visibility of building assets and the maintenance actions related to them.
Mobile friendly property maintenance
Assign, send and monitor the status of all maintenance tasks. The mobile application allows maintenance staff to easily respond and report on the go.
Reduce costs & CO2 footprints
Measure, consolidate and report consumption data of various resources to increase energy efficiency and reduce your building's carbon footprint.
Create optimal indoor conditions energy efficiently
Measure and manage indoor conditions to ensure end-user wellbeing and make properties more sustainable in the long-run.
Visualise & monitor with Granlund Manager software
Consolidate energy, indoor condition and technical operability data from different sources. Track building performance against predefined targets for optimal consumption and conditions.
Executive reporting portal
Tailored and dynamic reports allow you to follow relevant KPI's of maintenance, energy consumption and costs, all supporting smarter decision-making.
Broad API integration
Easily integrate several different software with Granlund Manager, seamlessly transferring project and budget information between systems.
Customised reports
In addition to basic dashboards, relevant information can be translated into reports according to customer or user needs. The visualised and dynamic reports are easily accessible and allow for versatile data analysis.
BIM to FM
Creating a Digital Twin helps manage all property related data. Our BIM can contain data used during the design phase and from IoT devices, as well as from automation systems and users themselves.
Synchronised data sources
Combine multiple data sources with our BIM, creating a digital twin to serve as a communication channel between property owners, maintenance personnel and end users.
Visualise conditions & performance
Based on selected data sources, BIM produces 3D visualisations of how indoor conditions have performed in relation to preset configurations and targets.
GUARANTEED Easy implementation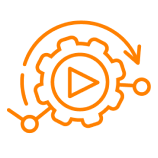 1. PLAN
Up and running in 30 days
Our experts plan how you'll get started – minimum need for customer involvement.
2. SET-UP
We do the set-up for you
We take care of the set-up with experience of more than 50,000 successful implementations.
3. USE
Continuous local support
We are there to help you take maximal benefit from the software.
pricing model Monthly SaaS fee
Based on selected modules & property size
One time setup fee depending on project size
Always included
Unlimited users & assets
Free monthly updates
Local support
Avoid
Hardware investments
License fees
3rd party consulting costs
Testimonials
"Granlund Manager plays an important role in keeping our operations running uninterrupted. The software enables visibility, control and fast reaction times of our maintenance actions."
"We are not a typical maintenance or facility management company. We always look for more advanced ways to serve our customers. This is why we chose Granlund Manager. It not only makes our customer service faster but also more cost-effective. It helps us stand out from the competition."
"We have been able to receive clear savings while gaining full visibility of the total energy consumption. Additionally, Granlund Manager helped create a list of actions needed for further energy savings and a clear understanding of the impact of these actions."
"The implementation of Granlund Manager was very fast and straightforward. It is very user-friendly and it has been easy for our maintenance personnel to take it into use. Cooperation with Granlund has been effective and successful."
"Granlund Manager is great system for our hotel's operative management. It indicates where problems are and thus enables us to better plan our daily maintenance tasks and investments. In addition, it gives us clear visibility of our energy consumption"
Frequently asked questions
Granlund Manager is a property maintenance and energy management software that supports management, optimisation and automation of maintenance tasks as well as monitoring, managing and optimizing of energy consumption. The software utilizes building information models in the facility maintenance.
The software is designed for use by property owners and persons acting on their behalf, such as property managers and other service providers. Granlund Manager scales for maintenance of different sized real estate portfolios and is suitable for a variety of industries.
Granlund Manager is used in commerce, hotels and restaurants, listed buildings and cultural sites, educational institutions, hospitals, business and industry premises. The software is also used by municipalities and cities. In addition, Granlund Manager can be configured with the features you need for special facilities such as data centers and sports facilities.
Pricing is based on the number, type and size of properties or buildings that you maintain. In addition, the price will be affected by the features that the software operates and what information is collected. Prices include volume discounts.
Granlund Manager is a cloud-based SaaS service, with a new release every month. The latest version of the software is automatically available to all users of the service at the same time.
The security of the SaaS service has been taken care of, among other things, by placing server equipment in data centres that meet the requirements of the state security classification. We also have the latest security and monitoring methods and privacy standards in place
The software doesn't have customer-specific features, but the user interface can be customised for each user. The Manager contains a wide variety of configurations and settings that, when selected, will change the use of the software according to customer needs, industry, hardware and processes.
Granlund Manager has great integration capabilities. Two-way communication is enabled between the software and various property, financial, and ERP systems. Data is also transmitted through standardised APIs from property automation, cloud services and IoT sensors.
The software features include monitoring, managing and optimising energy consumption of the property. Hourly and monthly energy consumption data is obtained directly from energy companies and can be stored in Granlund Manager for analysis, comparison and reporting.
Property IoT sensors and various cloud services data can be transferred to Granlund Manager through integrations.