Cyfryzacja procesów obsługi technicznej nieruchomości
Zapomnij o długopisach, papierach i arkuszach kalkulacyjnych. Granlund Manager to oprogramowanie faworyzujące urządzenia przenośne, z którym przeniesiesz obsługę techniczną nieruchomości na wyższy poziom. Granlund Manager to modularny system zarządzania obsługą techniczną nieruchomości, dzięki czemu można go skalować i konfigurować tak, aby pasował do wszystkich organizacji, nieruchomości i portfeli.
Optymalizacja czasu i zasobów
Planuj prewencyjne zadania konserwacyjne z dużym wyprzedzeniem, aby zoptymalizować zasoby i oszczędzać czas.
Dostępność do danych i ich nadzorowanie
Uzyskuj dostęp do informacji dotyczących nieruchomości i danych obsługi technicznej przez cały czas. Oprogramowanie Granlund Manager zapewnia pełną widoczność obiektów będących budynkami oraz związanych z nimi działań obsługi technicznej.
Obsługa techniczna nieruchomości przyjazna dla urządzeń przenośnych
Przydzielaj i wysyłaj wszystkie zadania obsługi technicznej oraz monitoruj ich stan. Aplikacja mobilna umożliwia pracownikom obsługi technicznej łatwe reagowanie i raportowanie w trakcie wykonywania prac.
Obniżone koszty i ślady CO2
Mierz, konsoliduj i raportuj dane dotyczące zużycia różnych zasobów, aby zwiększyć wydajność energetyczną i obniżyć ślad węglowy budynku.
Lepsze warunki wewnętrzne
Mierz warunki wewnętrzne i zarządzaj nimi, aby zapewnić komfort użytkownikowi końcowemu i ułatwić utrzymywanie nieruchomości w dłuższej perspektywie czasowej.
Wizualizowanie i monitorowanie
Konsoliduj dane dotyczące energii, warunków wewnętrznych i zdolności funkcjonowania technicznego z różnych źródeł. Śledź wyniki budynku względem wstępnie zdefiniowanych celów, aby zapewnić optymalne zużycie i warunki.
Portal raportowania dla kierownictwa
Dostosowane i dynamiczne raporty pozwalają śledzić istotne kluczowe wskaźniki wydajności dotyczące obsługi technicznej, zużycia energii i kosztów, co przekłada się na sprawniejsze podejmowanie decyzji.
Szeroka integracja interfejsu API
Z oprogramowaniem Granlund Manager można łatwo zintegrować kilka innych programów, płynnie przenosząc informacje o projekcie i budżecie między systemami.
Dostosowane raporty
Ważne informacje można przedstawić — poza podstawowymi pulpitami nawigacyjnymi — w formie raportów, odpowiednio do potrzeb klienta lub użytkownika. Zwizualizowane i dynamiczne raporty są łatwo dostępne i umożliwiają zróżnicowaną analizę danych.
Model BIM na potrzeby FM
Utworzenie cyfrowego bliźniaka ułatwia zarządzanie wszystkimi danymi związanymi z nieruchomością. Nasz model BIM może zawierać dane używane na etapie projektowania i pochodzące z urządzeń IoT, jak również z systemów automatyzacji i od samych użytkowników.
Zsynchronizowane źródła danych
Połącz wiele źródeł danych z naszym modelem BIM, tworząc cyfrowego bliźniaka, który będzie pełnić rolę kanału komunikacji między właścicielami nieruchomości, pracownikami obsługi technicznej i użytkownikami końcowymi.
Wizualizowanie warunków i wyników
Na podstawie wybranych źródeł danych model BIM generuje wizualizacje 3D przedstawiające realne warunki wewnętrzne w odniesieniu do wstępnie ustawionych konfiguracji i wartości docelowych.
GWARANTOWANE ŁATWE WDRAŻANIE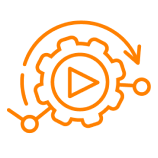 1. PLANOWANIE
Gotowe do działania w ciągu 30 dni
Nasi eksperci planują, jak rozpoczniesz pracę — uczestnictwo klienta jest ograniczone do minimum.
2. KONFIGUROWANIE
Konfigurujemy wszystko za Ciebie
Zajmujemy się konfiguracją — mamy doświadczenie z ponad 50 000 pomyślnych wdrożeń.
3. UŻYWANIE
Ciągła lokalna pomoc techniczna
Służymy pomocą, aby umożliwić Ci czerpanie maksymalnych korzyści z oprogramowania.