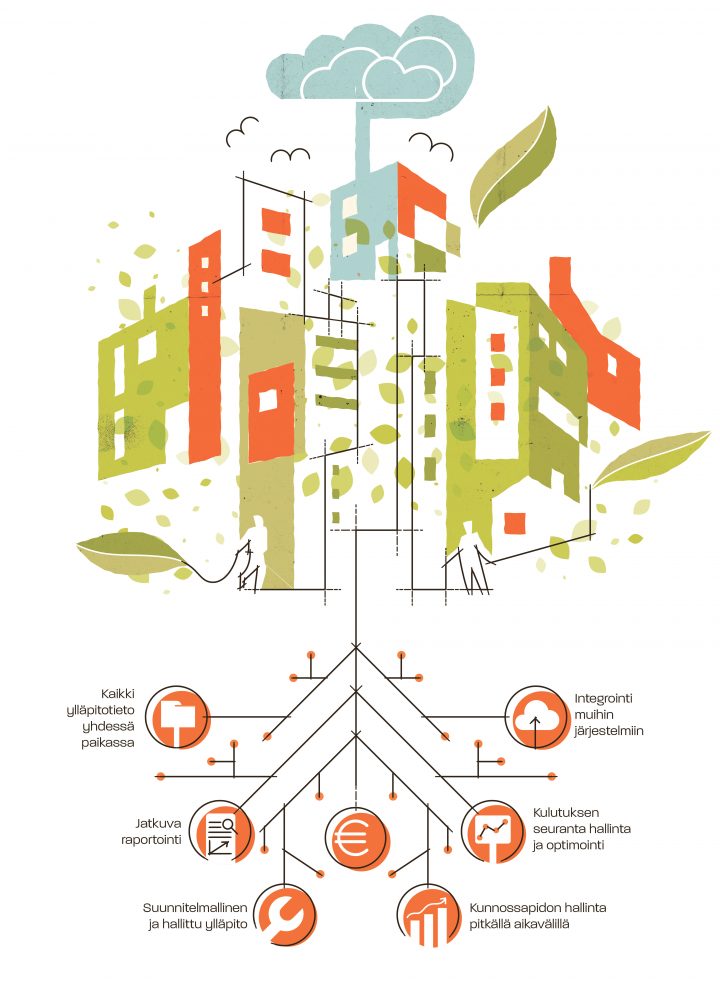 Buildings produce a vast amount of data every day as increasingly intelligent technical building systems collect information on energy consumption, indoor conditions and other factors.
Nearly real-time data are available on the consumption of electricity and heat. There are also room sensors measuring temperature, humidity and carbon dioxide content.
"Smart property owners and companies responsible for maintenance know how to make the most of data," says CBDO Ville Reinikainen from the real estate and construction group Granlund.
"Intelligent management of energy consumption, for example, helps steer the use of the property in a more energy-efficient direction. This may result in considerable savings in energy bills. It can also help reduce climate emissions produced by energy consumption."
Data collection alone is not enough
Reinikainen emphasises that gathering data alone is not enough. Strong expertise in the energy and real estate sectors and a system to analyse the data and integrate it with the management of real estate are also required.
"In this way, decisions can be made on the basis of facts rather than a vague gut feeling," Reinikainen explains.
Granlund has used advanced analytics tools and artificial intelligence for a long time. Granlund has also developed cloud-based software for data analysis and property management.
"Granlund Manager puts data at the heart of management at all levels of the organisation, from top management to property management."
Facility management and maintenance made easier
Through the system, the real estate manager receives compiled information on, for example, the development of energy consumption in the entire property portfolio and future repair needs. The maintenance worker can, in turn, check the temperature of different facilities and the functioning of the technical building systems directly from their smartphone.
"The system makes the work of facility management and maintenance considerably easier. You can see if everything is in order at the property at a glance. Any deviations can be corrected quickly. This way, the indoor conditions remain optimal for users," says Jukka Karhu, Department Director at Granlund.
According to Karhu, the use of data is already well under way in controlling the energy consumption and conditions of buildings.
"Next, data will begin to add value to services in a broader sense. This could mean improving the cost-effectiveness of operations or increasing customer benefits," says Karhu.
Favourite music for hotel rooms
International companies have already developed hotels where the customer checks in electronically. The system recognises regular customers and automatically adjusts the room lighting and temperature according to their preferences. The system plays the customer's favourite music when they enter their room.
"Technology is no longer a constraint. The question is whether you know how make full use of it," says Karhu.
According to Ville Reinikainen, data can also be used to make the use of office space more efficient, for example.
Analytics and artificial intelligence make it easier to identify users' needs. This can be utilised, for example, in hubs and other shared facilities that are rapidly becoming more common.
"The system can recommend more suitable workstations and offer directions as soon as the user reaches the entrance. It also gives visitors information on where to find the services they are looking for. Such advanced services are not far off in the future. They are already under development."
Centralised energy monitoring reduces emissions
The employment pension company Veritas uses the Granlund Manager software to efficiently monitor and control the use of about 40 properties and their energy consumption. Veritas owns rental apartments, offices, commercial premises and industrial and logistics sites mainly in the Helsinki Metropolitan Area and Turku.
Previously, the energy data of buildings were scattered in the systems of maintenance companies. Now, Granlund Manager provides quick access to information on heat, electricity, water consumption and emissions.
Energy reporting helps Veritas achieve its ambitious goals in terms of energy savings and emission reductions. The analysed data also helps improve user satisfaction and indoor conditions.
The article was originally published in the Ideat supplement of Helsingin Sanomat on 31 May 2021.